3M Security Window Film For Your Denver Home
Window film has always been and still is an under-rated technology with incredible powers to change the way people live their lives. In fact, window films are good for everything from blocking UV rays to lowering utility bills and can even save lives. One niche film that is often overlooked for many of its additional benefits is 3M security film. In fact, it is so powerful across a range of applications that it is becoming the standard for windows on homes here in Denver and across the US for many reasons besides simply security. As it stands, some security window films provide benefits for homeowners that improves their quality of life as well as keeps them protected. Read on find out more surprising benefits security window film could bring to you.
Reasons Why Homeowners Should Install Security Window Film
Security Window Film For Protection From Theft
First and foremost, security window film is integral to keeping your home safe. Although Denver is a very safe city, crime happens all the time here. When/ if it happens to you at your home, it can rob you of your sense of security and comfort in your home for years to come. It can also be very expensive if your belongings are stolen. However, most importantly you need window film to protect the people you love in your home. Not only will security window film keep an intruder from getting in, the right window film, adhesives, and attachment systems can even stop bullets and give your family ample time to escape in the worst case scenarios.
Security Window Film For Protection From Natural Disasters
Not all threats come by way of other humans. Mother nature is a very powerful force here in Denver and across the world and could spell disaster for you and your family if you are unprotected. Security window film can protect you and your family from being struck by flying glass should your window be struck by a high-velocity projectile from tornados or very high winds, which are common in Denver.
Security Window Film For Protection From UV Rays
Security films that also blocks UV rays are a real thing and becoming ever more popular–especially in Denver's high altitude. In addition to cutting-edge security features, you also get full UV protection from the harmful rays of the sun. The National Cancer Society endorses UV protecting window film as part of an overall cancer-prevention health regime, this type of preventative measure is a very good idea for protection for you and your family.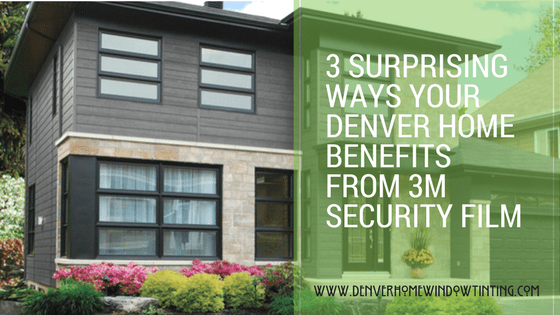 For more information on all the benefits security film can provide for your Denver home, contact us, at Denver Home Window Tinting today!